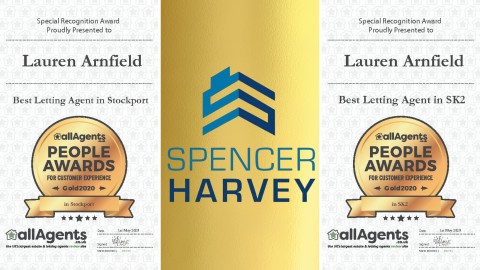 We have been thrilled that our team members at Spencer Harvey have been recognised in the recent allAgents people awards for customer experience. We have picked up five GOLD awards, and with these awards based on customer reviews, we are delighted to be recognised for the services our team offer.
The entire company is delighted to be recognised, but we know when it comes to customer reviews, it is often the work of individual team members that impact customers. We are delighted to shine the spotlight on our team member Lauren Arnfield on our lettings team, who won four of the awards and Leila Sadeghi on our sales team.
Leila Sadeghi – Best Estate Agent in SK2 – GOLD AWARD
Lauren Arnfield - Best Lettings agent in SK2 – GOLD AWARD
Lauren Arnfield - Best Lettings agent in Stockport – GOLD AWARD
Lauren Arnfield – Best overall agent in Stockport – GOLD AWARD
Lauren Arnfield – Best overall agent in SK2 – GOLD AWARD
We all know Lauren and Leila are excellent at their job and provide fantastic service for their customers. Therefore, we are thrilled to know customers feel the same way and have been quick to offer glowing reviews and testimonials relating to Lauren and Leila's work.
Lauren & Leila are top of the pops in Stockport
There are many skilled and highly experienced agents operating in Stockport, so for Lauren and Leila to come out so consistently on top says everything you need to know about their work. These awards come as no surprise to us, as we have seen Lauren and Leila's capabilities at first hand, but it is always nice to see someone receive acknowledgement for great work.
We could spend a lot of time singing the praises of Lauren and Leila, but the reason they won the awards is down to the reviews of the customers they have helped. Therefore, we are better off letting our customers tell you how great they are!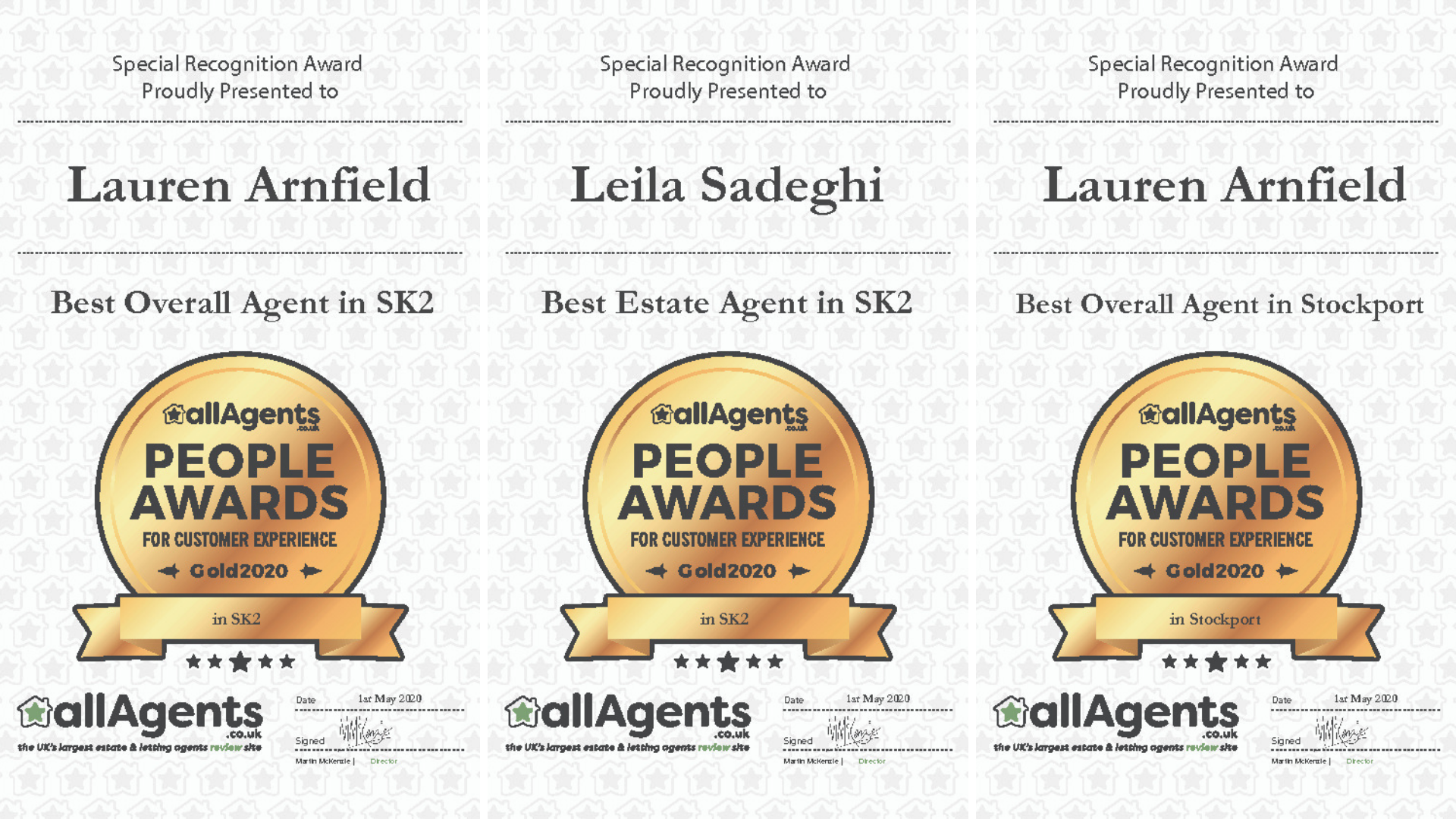 Our customers say it best
This review, from September 2020, comes from Sonia Da Costa, and sums up why Lauren has received a lot of recognition of late:
"Great agency, we were looking for an apartment and they organised the viewing fast And after the viewing we were able to move in within a week. We had some issues during our tenancy but because they have a great system for reporting issues they were rapidly fixed. Would definitely use this agency again if I am looking for a property in the area. Lauren was also very helpful at the end of our tenancy and she even posted a package to us that arrived after we left, really great service."
This review, from August 2020, comes from Louise Brown, and sums up why Lauren has received a lot of recognition of late:
"Amazing service!
I highly recommend using Spencer Harvey for buying/selling and renting. I purchased a lovely property through the company, which is now my family home. Leila was very professional, patient and understanding of the fact I was a first-time buyer. She kindly helped me with everything and it was a very easy process. I couldn't fault Leila in any way for her amazing service and impeccable knowledge for properties. Thankyou Leila!"
These awards are richly deserved. Winning awards is tremendous, and it shows the high standard of service a professional provides. However, we know it is down to the hard work, and quality Lauren and Leila offers every time, and that is the reason they have been recognised by customers, by the industry, and by all the team at Spencer Harvey.
If you would like support from Lauren or Leila with your next move, whether it be buying, selling, renting or lettings, or you are happy for any of the Spencer Harvey team to help you take your next step, please get in touch. We are thrilled to be recognised as a leading agent in SK2 and Stockport, and if you're looking for an agent with their finger on the pulse in Greater Manchester, we are here for you.
When you need a local agent, contact Spencer Harvey on 0161 480 8888, and we will be more than happy to assist you.
---
---